You can find your VO2max using this test. It's so easy!
If you don't know what is VO2max, I give you a short description. VO2max is one the components of aerobic performance. Higher VO2max shows better aerobic performance. VO2max is the maximal rate of oxygen consumption. The increase in VO2 is linearly related to increasing power output.
First of all, I have to say the only way to find a real VO2max data is only by using a gas analyzer. There are some scientific tests to find approximate VO2max. Also, some watches show VO2max data for you. I personally don't trust my watch data. I tested it at laboratory few years ago and the VO2max data from watches were totally different than data from gas analyzer.
For this test (developed by Prof.Per-Olof Åstrand) you need to set up bike on trainer, have heart rate monitor, cadence sensor and power meters. If you don't have them, go to a gym and pedal on cycling ergometer. Cycling ergometers show cadence and watts during your pedaling. The best option is using laboratory cycle ergometers such as Monark cycle ergometer.
Validity of this test: the correlation to VO2max approximately 0.85 – 0.90.
First choose suitable watt for you from the table below:
Men
Unconditioned
50-100 watt
Conditioned
100-150watt
Women
Unconditioned
50-75 watt
Conditioned
75-100 watt
Poorly Conditioned or older
50 watt
Start pedaling with 50 RPM. After 1 minute check your heart rate. Heart rate has to be between 125-170bpm. If your heart rate is not above125bpm, increase the watt and check it again after 1 minute. If your heart rate is above 170 bpm, decrease the watt and check it again after 1 minute.
If your heart rate is between 125-170bpm, continue pedaling with a stable watt and cadence 50RPM for 6 minutes. before the end of 6min, check your heart rate. Let's say at 5':50''.
At the end of the test you know your pedaling watt and your heart rate data.
Look the table below. Red color is for female and black is for male.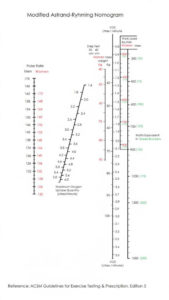 Find your heart rate on the left line. And find your watt on the right line (green color).
Draw a line between two points and see your VO2max number on the line in the middle.
Multiply the result with correction factor: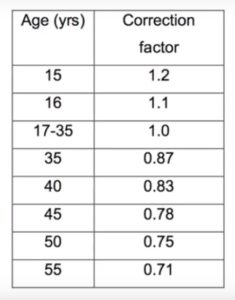 Divide the number in L/min by your body weight in kg, then multiply x 1000.
If you want to compare yourself with norms, here you are a VO2max norm: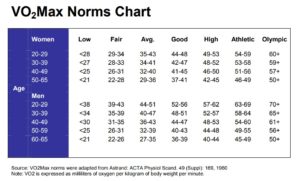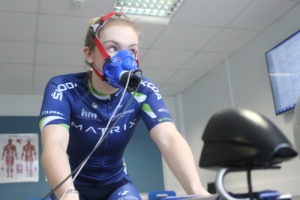 Have questions about this?
Comment below and I'll answer them!
I'm always checking on my new blog for new comments…
So if you need help solving your training problems, feel free to comment and I'll pop back on and answer them as soon as possible!